● Product Description
【IP65 waterproof】
The white appearance of the downlight 5w ceiling spot lights 3000k ip44 led downlight led slim is soft and elegant. With IP44 protection rating, the ip44 led downlight led slimis perfect for bedroom, living room, or any room in the house, providing you a bright and comfortable environment.
【Quality lighting】
The small spotlights for ceiling for low ceilings, with its luminous flux of 390 lm, replaces the 50W halogen bulb. The colour temperature: 3000K. Glare free. The product has an excellent colour rendering CRI > 80, which allows to obtain colours true to reality. Beam angle of 38 °. This adjustable downlights PF>0.5, it is really adjustable downlights for low ceilings for living room with good value.
【Integrated design 】
Integrated design:The spot light for home cannot be replaced. The mini downlights 240v is made of PV and aluminum. The acrylic diffuser has better light transmission than other materials. Simple spring fixing for tool-free installation.
【24mm LED spotlight extra flat】
The height of the mini downlights 240v is 24mm which allows it to be recessed in ceilings even where space is limited. The outer diameter is 87mm, the recessed hole should be between 68 and 80mm. The fixing system consists of springs that hold the integrated LED in place in its hole.
【High Quality & Safe】
Lifetime: The ceiling spot lights lifetime up to 15000h. Smooth surface, dustproof, waterproof, rustproof, an ideal choice for modern life!
【Easy To Install】
The integrated design of led downlight led slim can be directly connected to a voltage of 220V~240V without a transformer, and the installation with side springs effectively prevents leakage between the lamp and the ceiling. Only one mounting hole with a diameter of 68 to 70 mm and a cavity depth of 24 mm is required.
【After-Sales Service】
ADAYO Lighting promise to provide you with 2 years warranty and lifetime after-sales service of this ceiling spot lights. If you have any problems or questions during use, please feel free to contact us, we will try our best to solve them within 24 hours.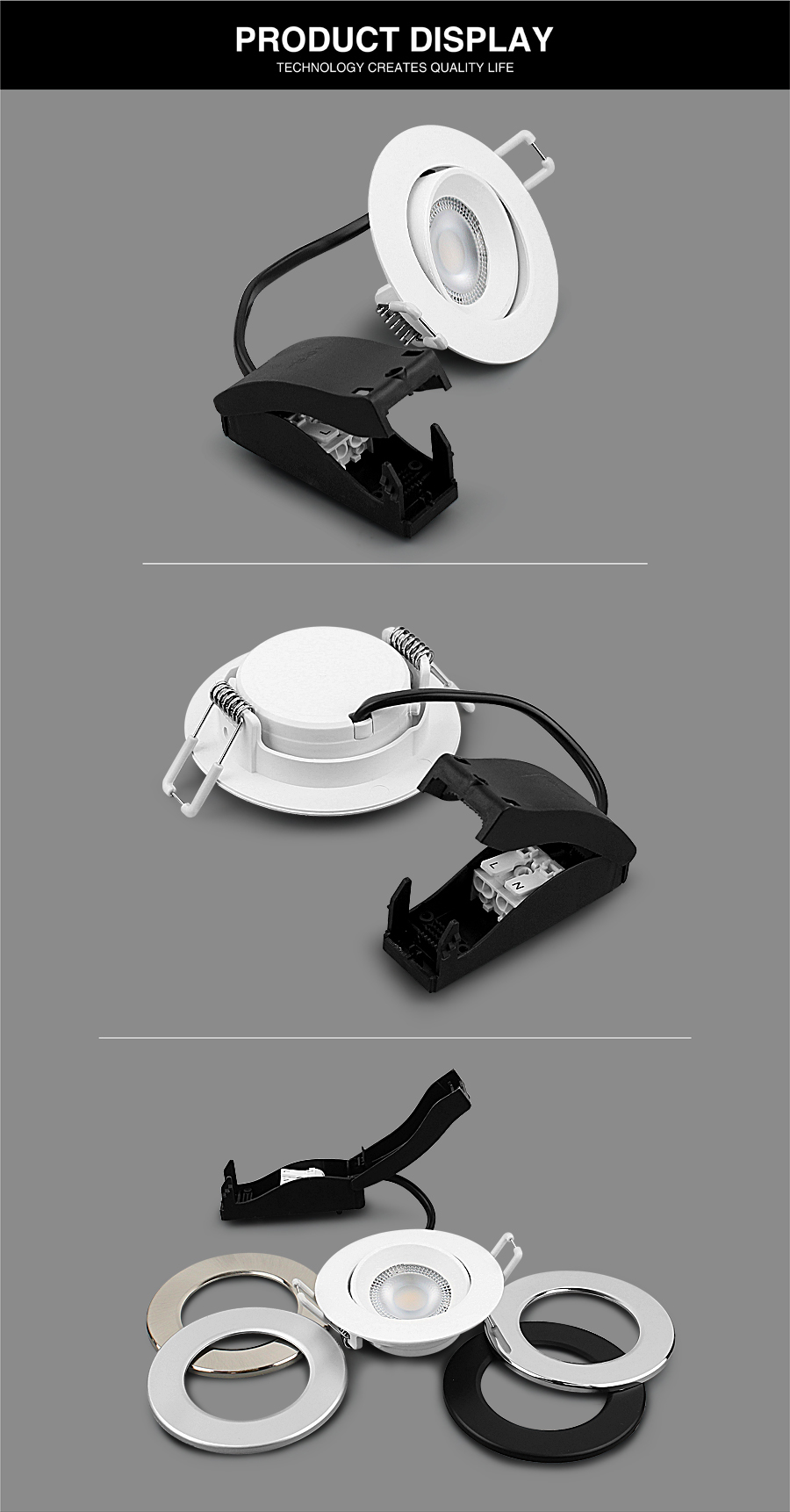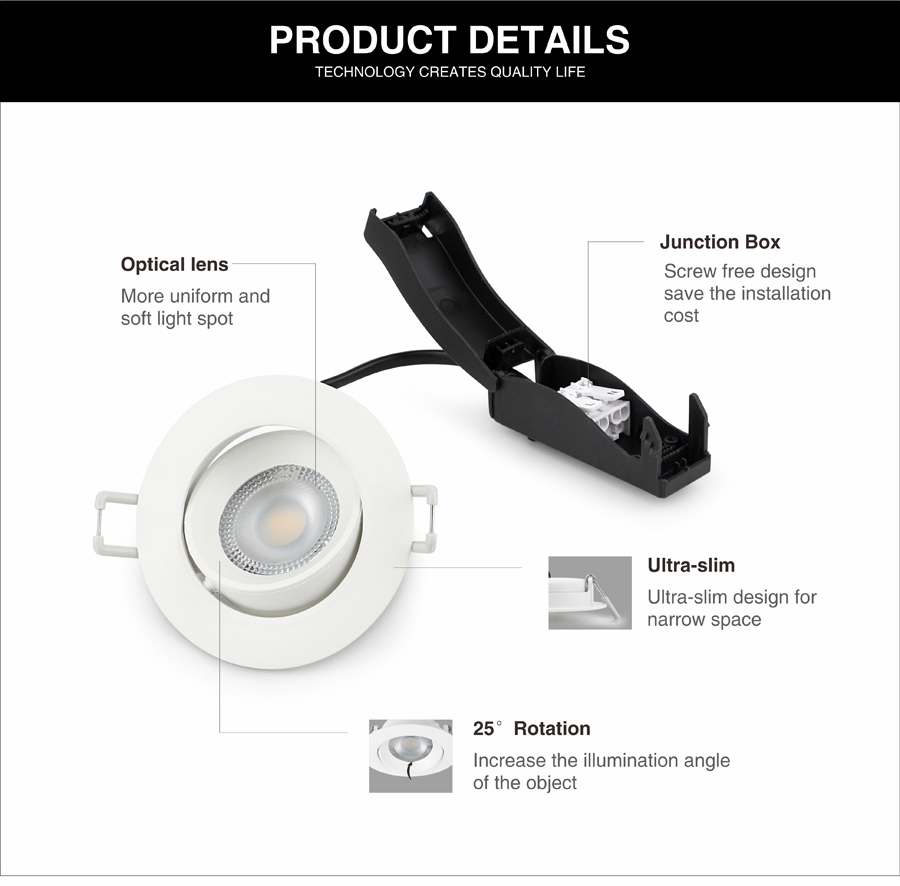 ● Features:
ADAYO lighting downlight 5w Amber B features as below:
With aluminum heat sink, keep life span 15000hours;

Four colors of bezels optinoal: brushed nickel, chrome, silver, black;

Size:

87x24mm, cut68mm. It's ultra-slim design for narrow space

;

Clear light beam angle 38° with no dark spots and has gentle fade to edges for uniform lighting design;

Quality SMD 2835, 2700K/3000K/4000K;

Simple design, comfortable light feeling and easy installation.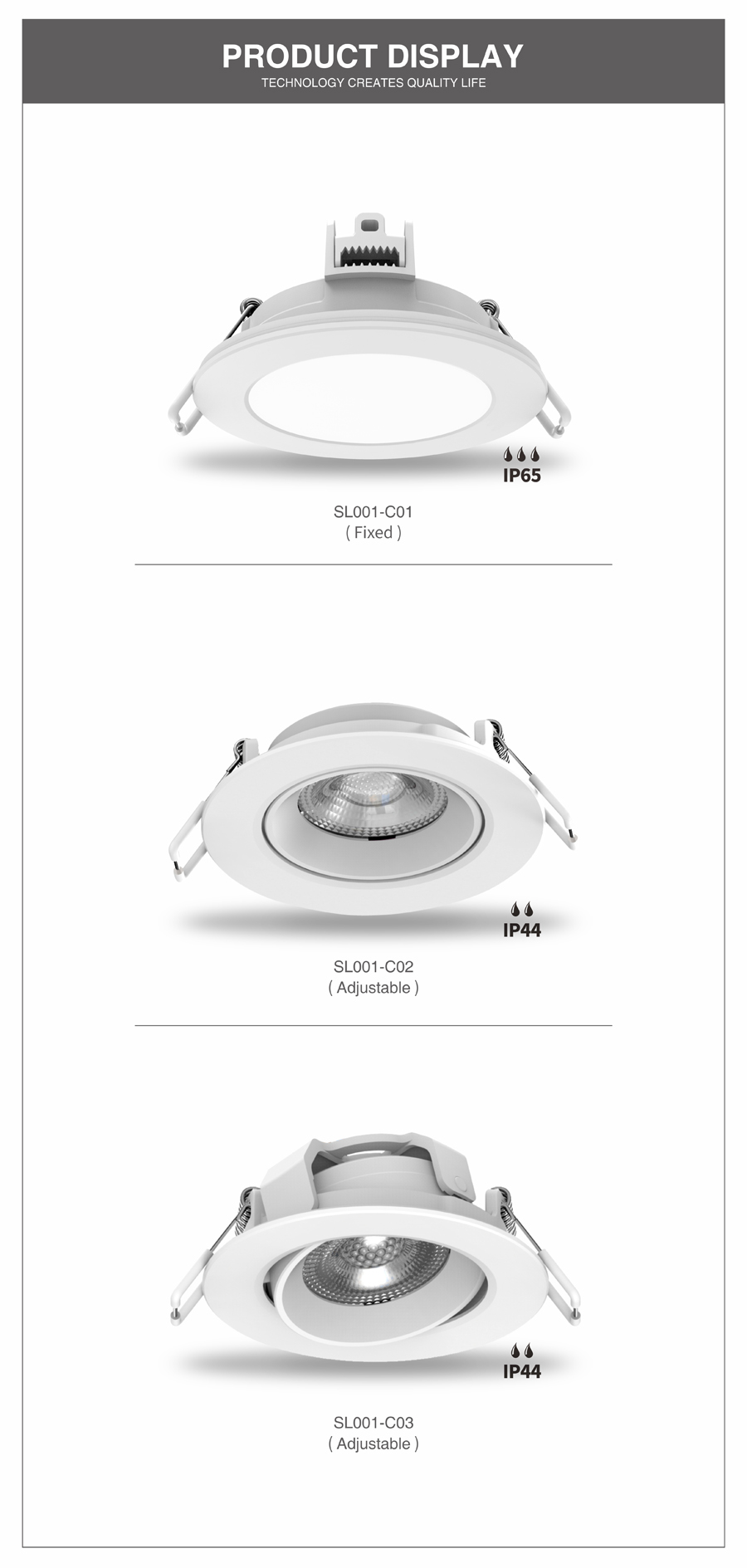 ● Specification:
ADAYO lighting small spotlights for ceiling , mini downlights 240v with slim body and bright light beam angle 38°, with diffirent colors bezel changable specification as below: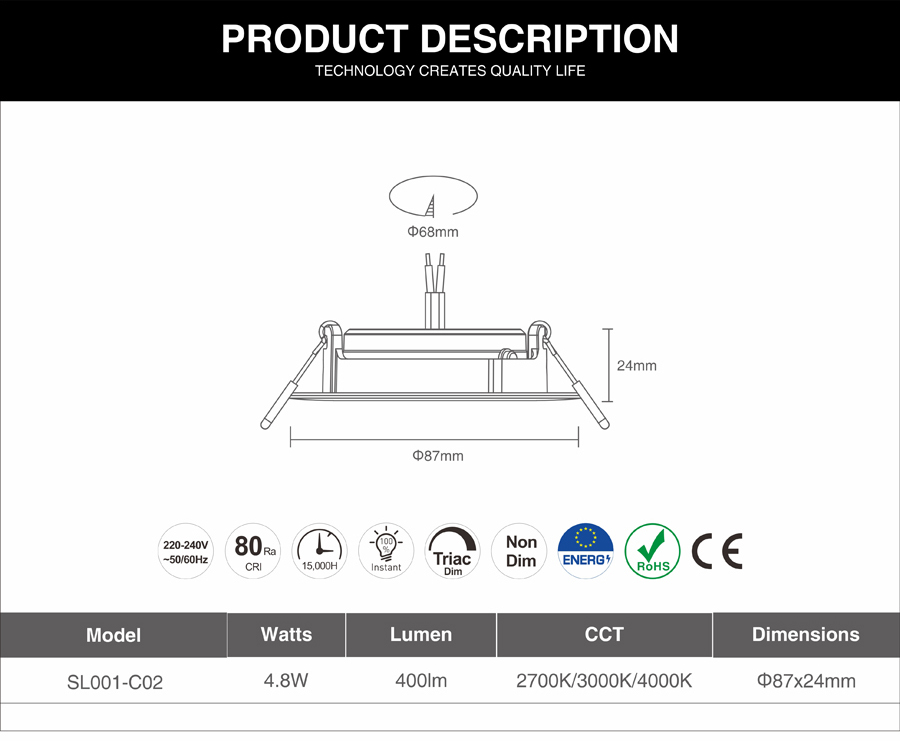 ● Accessories Optional
Bezels changeable: Round and Square, brush nickel, Chrome, Silver, and black color bezels for choosing and changeable

Plastic insulation cover

CCT optional: 2700k,300k,4000k,6500k

Dimmable and No-Dimmable for choosing

Joinxtion box is aviliable.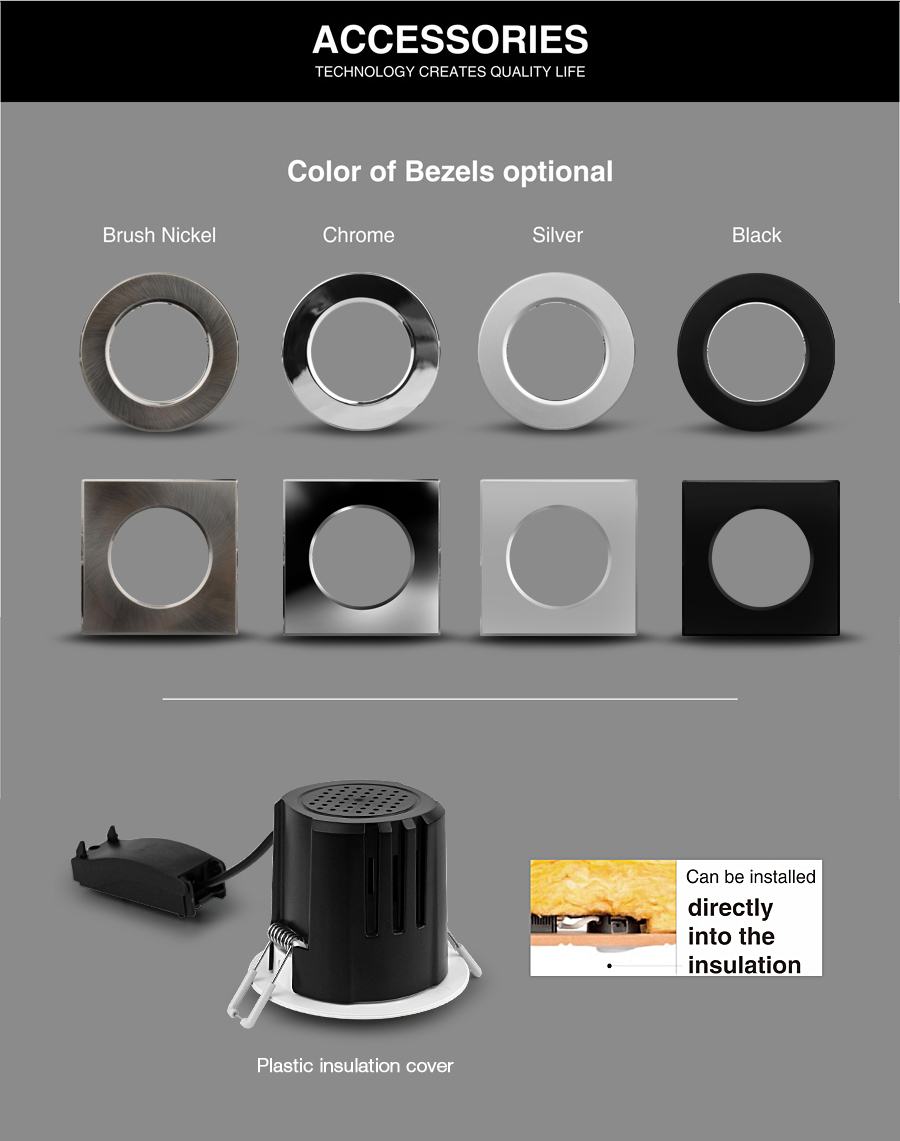 ● Installation
Make sure power is off before installation.

Cut a suitable hole in the ceiling, the hole size will show on the specification form.

Connect wires to the wire box.

Press the side spring and push the fixture fitting into the ceiling hole, and make sure the fitting is stable and firmly. (Need to be adjusted well to illuminate angle). After proper installation is confirmed, switch on the main power.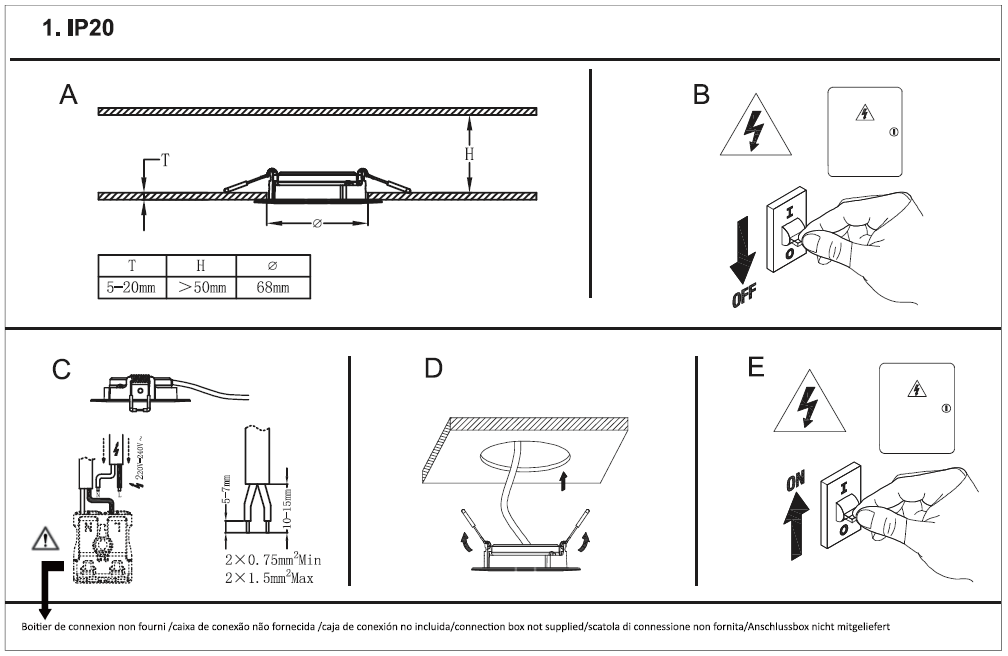 ● Applications
Amber adjustable spotlight 4.8W IP44 spotlight , with 38 degree angle bright feeling meet your lower ceiling styles
Living room, bedroom, bathroom, kitchen

Office, meeting room

Shop, hall, supermarket

Hotel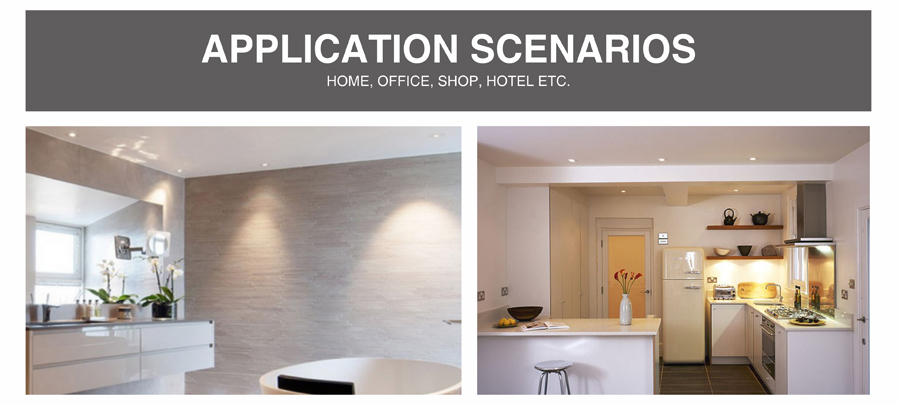 ● Brief introduction of ADAYO Lighting
A wholly owned subsidiary of Foryou corporation (ADAYO, Since 1993, listed in 2017)

Industrial park: 56000sqm

Business line: LED package, LED high power driver, LED Lighting

R&D laboratory: 1200sqm with international standard

R&D team: more than 60 people, one third of them with more than 20 years of experience in the lighting industry

Work shop: 5000 SQM with more than 300 works and 50 production lines

Monthly Capacity(Pieces) : package 1000KK , Driver: Big Watt: 300K, Low Watt: 1000K, LED light: 5000K

New product lunch time: 6-10 weeks.

Payment: L/C, T/T, O/A

Facebook: https://www.facebook.com/ADAYOlighting
Twitter: https://twitter.com/adayolighting